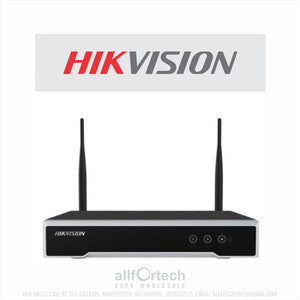 DS-7104NI-K1/W/M 4-ch 1HDD Wifi NVR
₹. 5,215.00

₹. 5,215.00
Tax included.
---
---
Features and Functions
Video Input and Transmission
 Up to 4/8 IP cameras (max. incoming bandwidth: 50 Mbps)
 Live view of the connected camera at up to 4 MP resolution Compression and Recording
 H.264, H.265, H.264+, and H.265+ compression.
 Full channel recording at up to 4 MP resolution Video Output
 HDMI/VGA output with up to 1920 × 1080 resolution Storage and Playback
 1 SATA interface for HDD with up to 6 TB capacity
 Up to 4/8-ch synchronous playback
 Smart search for efficient playback Smart Function
 Supports line crossing and intrusion VCA (Video Content Analytics) events for IP cameras Network & Ethernet Access
 Hik-Connect for easy network management
 One 100M Ethernet network interface Wi-Fi Features
 Provides Wi-Fi function.
 Up to 16 terminals, including mobile phone and laptop, can access NVR via Wi-Fi
 Dual external antenna design offers more powerful and stable signal.
---
We Also Recommend