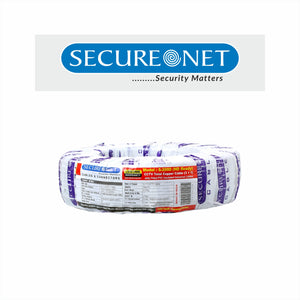 Securenet S-500 ECO CCTV Cable (3+1)
₹. 1,010.00

₹. 1,010.00
Tax included.
---
---
Securenet S-500 ECO CCTV Cable (3+1)
Cable Type 3+1 CCTV Cable
Video Core Conductor Solid Copper
Gauge 20(SWG)
Power & Audio Core Conductor Stranded Copper
No. Of Strands 14
Braiding Conductor Stranded Alloy
No. Of Braiding strands 36
Jacket Colour Pearl White
Cable Length 90 Mtrs.
Recommended Distance Upto 1 MP HD Camera, 90 Mtrs.
---
We Also Recommend